08 novembre 2017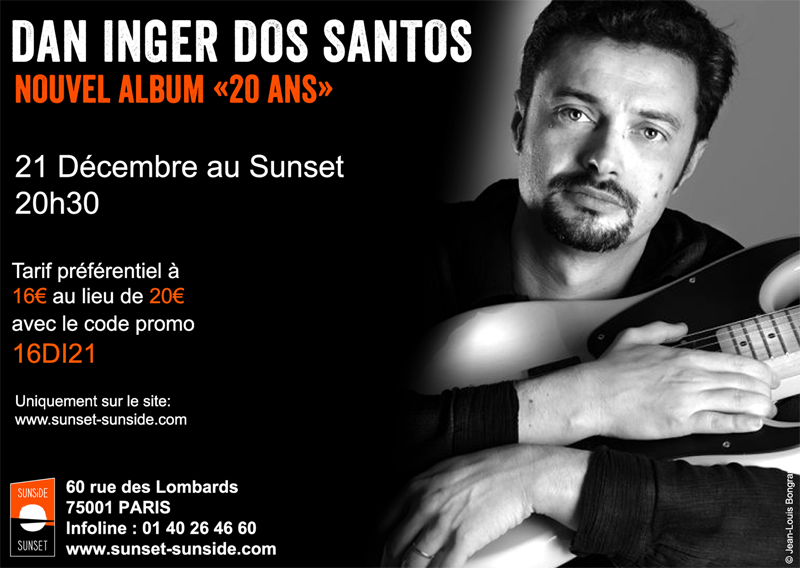 Album compilation « 20 Ans »

L'Académie de Fado & le Sunset présentent
pour 2 heures de concert

Dan Inger dos Santos en trio "Fado Blues" Atlântico Tour
Dan Inger : guitare & chant
Diogo Arsénio : guitare fado
Red Mitchell : guitares
Invités : Yann Lavoix & Teofilo Chantre

Depuis les sorties de ses albums Atlânticoblues et Le Quatrième, suivant les cartes des grands navigateurs portugais, Dan Inger dos Santos, nous emmène avec cette formation acoustique dans un voyage musical autour de l'océan Atlantique. Son Fado Blues aux arrangements subtilement aigre-doux, s'inspire de la musique des pays qu'il traverse. Un métissage musical unique où son Blues, le Folk et les ritournelles celtes rencontrent les sonorités du fado et de la bossa nova. Un voyage étonnant vous attend de Lisbonne à St Malo, en passant par le Brésil, le Cap-Vert et l'Amérique.

Since the releases of his albums Atlânticoblues and Le Quatrième, following the maps of great Portuguese sailors, Dan Inger dos Santos takes us on a musical trip around the Atlantic ocean with his acoustic band. His Fado Blues with its subtle, sweet and sour arrangements, finds inspiration in the musics of countries he crosses. A unique musical mix in which his Blues, Folk and Celtic songs meet the sounds of fado and bossa nova. A surprising journey is waiting for you, from Lisbon to St-Malo, via Brazil, Cape Verde and America.
Infos & réservations : http://www.sunset-sunside.com/2017/12/artiste/2801/4991/
03 octobre 2017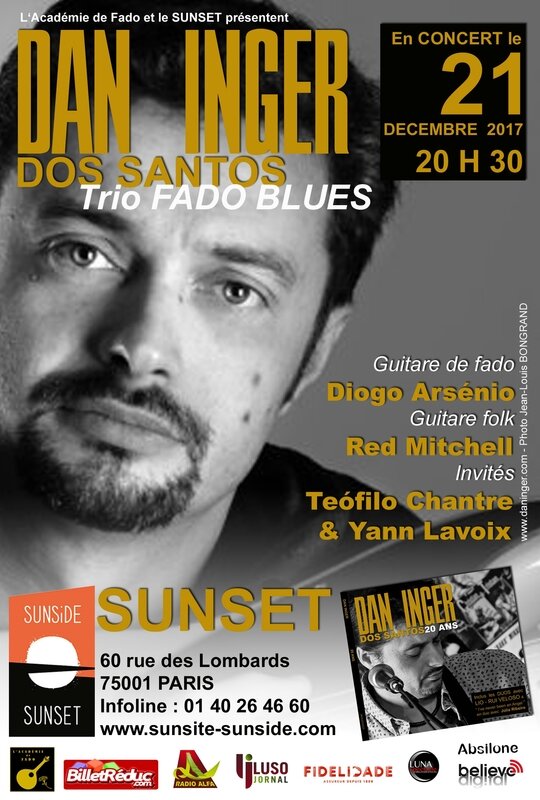 Infos et réservations : Site Sunset Sunside